VELCRO® Brand VELSTRAP® Straps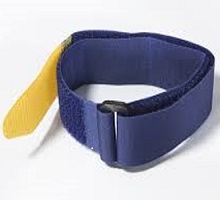 VELCRO® Brand VELSTRAPS®, are designed to make bundling a wide variety of items a breeze. You can bundle, organize and secure hoses, cords, cables, wood, fishing poles and much more with genuine VELCRO® Brand VELSTRAPS®. These reusable straps can be cycled (opened and closed) hundreds of times making them perfect for organizing cords by color, size or quantity. We produce a variety of straps including Face Strap, Back Strap, Cinch Straps and Two-Way straps all made from 100% Polyester or 100% Nylon VELCRO® Brand hook and loop.
The Velcro company is the world wide leader in hook and loop technology and Industrial Webbing Corporation is the largest Authorized Distributor of VELCRO® Brand products. Because we have been an Authorized Distributor of VELCRO® Brand fasteners for more than 30 years you can count on our knowledge and expertise to craft a strap that exceeds your expectations and deliver pricing and customer service that others simply cannot.
Custom applications are welcome call 800-635-5252 or email your print to sales@industrialwebbing.com for a rapid quote.