TEXACRO® Brand Fasteners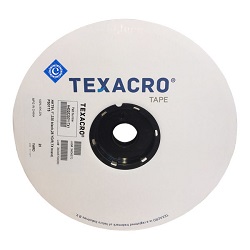 TEXACRO® Brand hook 70 and loop 71 fasteners are durable, cost effective, woven nylon hook and loop closure systems. Perfect for hundreds of everyday applications. Available in plain back for sewing or with a factory applied all purpose rubber based adhesive, (0132), that is suitable for a wide variety of substrates. This product is made in the USA by the Velcro companies and designed to be a economic alternative to the VELCRO® brand line of products. Available in both Black and White, the hook and loop rolls are sold separately.
Now Available for online purchase! The New TEXACRO® Brand hook T91 and loop T93 adhesive and sew on fasteners:
TEXACRO® tape is a high quality product produced by a Velcro Industries B.V., a global manufacturer of hook and loop fastening systems. This new economic hook and loop closure system is manufactured in China utilizing tried and true hook and loop technology and provides a higher quality alternative to other economic options available today. The product range is globally consistent and manufactured in facilities that are ISO 9001, ISO 14001, ISO 13485 & ISO/TS 16949 certified.
TEXACRO® Brand Hook T91 is a woven nylon hook, designed for high cycle life when mated with Loop T93, and a wide range of applications. T91 Hook is woven from nylon yarns and is available in widths up to 6 inches wide. TEXACRO® Brand Loop T93 is a woven napped nylon loop designed to mate with hook T91. This loop is also a high cycle life product, when used with hook 91, and is available in widths up to 6 inches.
TEXACRO® Brand Hook T91 and Loop T93 can be used in many applications from apparel and footwear to medical and many other industrial uses. TEXACRO® should be considered as an option for applications that require robust closure strength and consistent performance.